PRISMA is an interactive and immersive light installation that invites you to re-activate "invisible" urban spaces with renewed excitement. Inspired by Columbus' modern architectural legacy, a rectangular prism is used as a foundation to create an open-air tunnel with a free-flowing, animated lighted experience. Walking through PRISMA, the entire space comes alive with animated lights, each color vibrantly playing off the next. Every color is possible inside PRISMA, and each unique color represents the coexistence of people and communities that share these urban spaces. PRISMA even offers public access to set a particular mood for the prism!
This installation offers a public place to reconnect and celebrate the colorful diversity of life. In collaboration with various community groups, PRISMA serves as an energizing venue to enjoy light performances and pop-up events celebrating music, art, culture, and much more.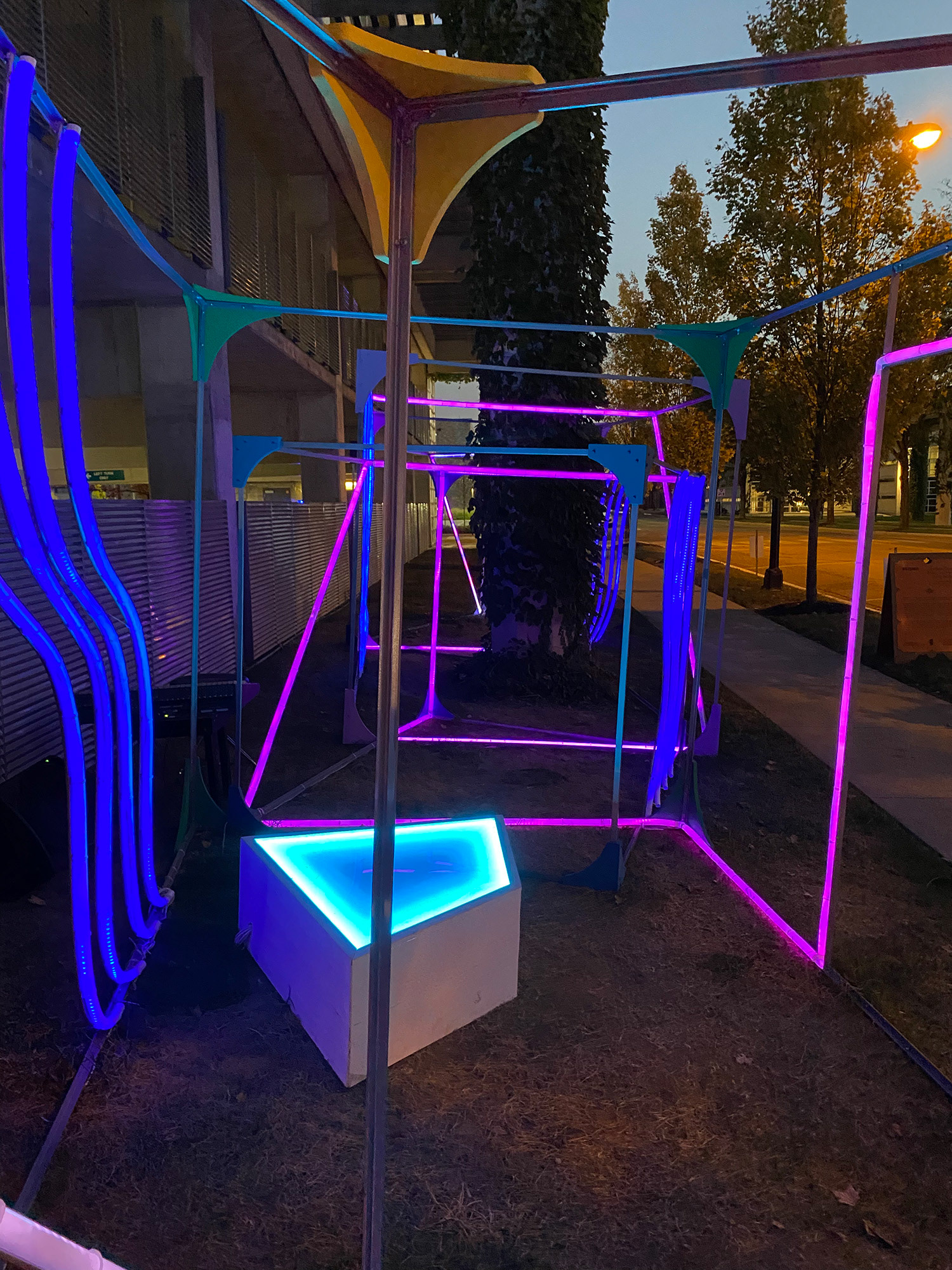 PRISMA Installation Credits
University Design Research Fellowship
Presented by
Columbus Area Visitors Center
Site Collaborator: Cummins Inc.

Department of Computer Graphics Technology at Purdue University
Team
Esteban Garcia Bravo, Project manager, fabricator
Maria Clara Morales, Designer, fabricator
Luke Gumaelius, Fabrication consultant, fabricator
Jack Thompson, Welder
Nick Wacyk, Electronics and interactivity consultant, fabricator
Pablo Garcia, 3d printing consultant, fabricator
Davin Huston, Electronics and interactivity consultant
Jose Manuel Garcia Bravo, Engineering consultant, 3d printing consultant
Materials
Steel, PEX, Wood, Advantech, Acrylic, LED lights
Fabrication Supporters
Max Carlson
Dor Ben-Amotz
Michael Amato 
Dan Bollock & Dave McMillan- Bechtel Innovation Center
Nandi Marocco
Additional Credits
Julian Triveri, 3d rendering
William Yang, 3d modeling